JON "ZINGER" HUIZENGA PITCHING/THROWING CLINIC FOR PLAYERS GRADES 4-12. 2 SESSIONS, GRADES 4-8 AND GRADES 9-12. SATURDAY/SUNDAY FEBRUARY 25- 26, 2023. BLUE CHIP BASEBALL FACILITY 804 NOLAND AVENUE GRAND JUNCTION, COLORADO. 
JON "ZINGER' HUIZENGA IS ONE OF THE MOST WELL RESPECTED AND WELL REGARDED PITCHING/THROWING COACHES IN THE COUNTRY. HE HAS WORKED WITH, TRAINED AND DEVELOPED A WHO'S WHO OF MAJOR LEAGUE PITCHERS. HIS FUEL FACTORY TRAINING CENTER IN NORTH PHOENIX ARIZONA IS WHERE PLAYERS GO TO TRAIN AND BECOME THE BEST! THIS CLINIC WILL HAVE LIMITED OPPORTUNITIES PER AGE GROUP. COME AND LEARN THE DRILLS AND TOOLS TO BECOME AN ELITE PITCHER. FOLLLOW JON ON INSTAGRAM AT FUELFACTORYSPORTS
SOME BIO INFORMATION ON JON AND SOME OF THE MLB PLAYERS HE'S WORKED WITH, TRAINED AND MENTORED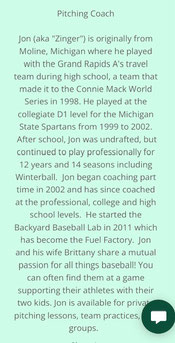 MATTHEW LIBERATORE, BEAU BRIESKE, PENN MURFEE, NOLAN GORMAN, ALL MADE MLB DEBUTS IN 2022. LIAM HENDRICKS, DUSTIN MAY, JULIO URIAS, KEN GILES, MANNY PARRA, JEREMY JEFFRESS, EDWIN JACKSON, ZAC ROSSUP, PARKER MARKEL, JUSTIN MILLER, JAMES HOYT,  CAMERON LOE, TREVOR MEGILL, DANNY GONZALES, TONY GOSLIN, TYLER GLASNOW, JAMESON TAILLON, CORY GEARRIN DEVIN WILLIAMS, TARIK SKUBAL, ADRIAN SAMPSON, TYLER WAGNER, JJ HOOVER, MARC RZEPCZYNSKI, SHELBY MILLER, MICHAEL KOPECH, BRIAN SCHLITTER HAVE ALL BEEN ZINGERS CLIENTS. 
                                SCHEDULE:
FRIDAY FEBRUARY 24 BLUE CHIP BASEBALL 804 NOLAND AVENUE GJ 630-730 PM PRESENTATION BY JON HUIZENGA OPEN TO COACHES/PARENTS/PLAYERS
GRADES 4-8 SAT FEB 25 2-430PM SUN FEB 26 10AM-1230
GRADES 9-12 SAT FEB 25 530-8PM SUN FEB 26 130-4PM
                       COST $150 PER