ROCKY MOUNTAIN OYSTERS WESTERN SLOPE FALL BASEBALL 2020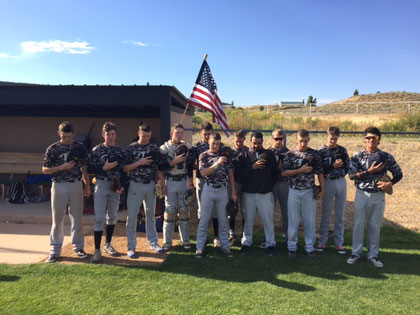 ROCKY MOUNTAIN FALL BASEBALL IS A GREAT OPPORTUNITY TO PLAY A COMPETITIVE SCHEDULE IN THE FALL AND TO CONTINUE TO DEVELOP YOUR GAME. COMMITTED PLAYERS IN LARGER METRO AREAS AND ESPECIALLY WARMER CLIMATES  ARE PLAYING THE GAME YEAR ROUND AND THATS WHO YOU ARE COMPETING WITH FOR OPPORTUNITIES AND SCHOLARSHIPS  AT THE NEXT LEVEL. WE WILL PLAY EVERY WEEKEND MID AUGUST UNTIL THE BEGINNING OF OCTOBER."IF YOU'RE NOT PLAYING AND GETTING BETTER AND IMPROVING YOUR GAME SOMEONE ELSE OUT THERE IS" THE FALL IS A GREAT TIME TO DEVELOP AND IMPROVE. WE HAVE 2 FRONT RANGE TRIPS AND WE WILL ALSO PLAY JUNIOR COLLEGES IN THE FALL CNCC IN RANGELY AND CEU IN PRICE UTAH.  FOR MORE INFO CALL OR EMAIL 602-332-7156 COACHJPL@ICLOUD.COM
University of Northern Colorado Team Showcase  Aug 21-23  Information:
The Top Teams in Colorado will be playing, the Rocky Mountain Oysters, Cherry Creek, Slammers, Gameday, Team Colorado. Colorado Rockies Scout Team etc among the 40  teams that will be playing,
College Coaches in attendance recruiting will be numerous but will include the following and more:
CMU, UNC, Regis, Metro State, Colorado Christian, UC Colorado Springs, UC Pueblo,
Colorado School of Mines, Augustana, Bethany College, Concordia University, Trinidad JC, Lamar JC, Colby CC, NEJC to name a few...
FALL  PRACTICE AND GAME SCHEDULE
ALWAYS COMMUNICATE ATTENDANCE AT GAMES OR WORKOUTS!
SCHEDULE SUBJECT TO CHANGE ALWAYS CHECK WEBSITE OR TEXT 602-332-7156
SATURDAY AUGUST 15 WORKOUT 10-1 TBA  BE IN UNIFORM
SUNDAY AUGUST 16  WORKOUT/SCRIMMAGE 10-1  TBA  WEAR OYSTER GEAR IF RETURNING. 
AUGUST 21-23 UNIVERSITY OF NORTHERN COLORADO TEAM SHOWCASE GREELEY
WEAR BLACK TOPS/WHITE PANTS ROSTER TBA
Expect an email from Triple Crown Sports to be certified to play!
AUGUST 29-30 TBA
SEPT 5-6 TOURNEY DENVER GAMEDAY COMPLEX TBA
GAMEDAY TOURNEY SCHEDULE  NO METAL SPIKES ALLOWED
PLASTIC CLEATS OR TURF SHOES ONLY
ALL GAMES AT GAMEDAY COMPLEX IN PARKER COLORADO
9345 Double Angel Road Parker Colorado 80108
SATURDAY SEPTEMBER 12 VS MOUNTAIN WEST  DH 11AM PALISADE HS
SUNDAY SEPTEMBER 13 VS MOUNTAIN WEST  DH 9AM SUPLIZIO FIELD
SATURDAY SEPT 19  VS CEU TBA
SUNDAY SEPT 20 PRACTICE TBA 
SATURDAY SEPTEMBER 26 PRACTICE TBA  
SUNDAY SEPTEMBER 27 AT CNCC RANGELY 11AM DH
SATURDAY OCTOBER 3 VS CEU TBA