ROCKY MOUNTAIN OYSTERS WESTERN SLOPE FALL BASEBALL 2021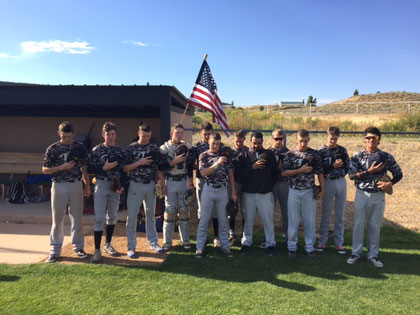 RMO FALL BASEBALL 2021                OUR FOCUS IS ALWAYS PLAYER DEVELOPMENT AND PREPARING HS PLAYERS TO PLAY AT THE NEXT LEVEL.
COMPLETE A PLAYER PROFILE ON OUR HOME PAGE IF YOU HAVEN'T DONE SO ALREADY, THIS INFO WILL BE USED FOR ROSTER PURPOSES AND WILL BE SHARED WITH COLLEGE COACHES.
ROCKY MOUNTAIN OYSTERS FALL BASEBALL IS A GREAT OPPORTUNITY TO PLAY A COMPETITIVE SCHEDULE IN THE FALL AND TO CONTINUE TO DEVELOP YOUR GAME. COMMITTED PLAYERS IN LARGER METRO AREAS AND ESPECIALLY WARMER CLIMATES  ARE PLAYING THE GAME YEAR ROUND AND THATS WHO "YOU" ARE COMPETING WITH FOR OPPORTUNITIES AND SCHOLARSHIPS  AT THE NEXT LEVEL. WE WILL PLAY EVERY WEEKEND MID AUGUST UNTIL THE BEGINNING OF OCTOBER."IF YOU'RE NOT PLAYING AND GETTING BETTER AND IMPROVING YOUR GAME SOMEONE ELSE OUT THERE IS".  THE FALL IS A GREAT TIME TO DEVELOP AND IMPROVE. WE HAVE FRONT RANGE TRIPS AT COLLEGE TOURNEYS UNC GREELEY  AND NEJC IN STERLING  THAT WILL HAVE COLLEGE COACHES IN ATTENDANCE. AND WE WILL ALSO PLAY JUNIOR COLLEGES IN THE FALL, CNCC IN RANGELY AND CEU IN PRICE UTAH TO PLAY A HIGHER LEVEL OF BASEBALL AND TO SEE WHAT ITS LIKE TO COMPETE AGAINST COLLEGE LEVEL TALENT. . WE WILL ALSO HAVE 15U/16U TOURNEY OPPORTUNITIES IN DENVER  AND IN VEGAS AND ARIZONA ALL FALL AND WINTER. PLAYERS WILL BE CONTINUALLY BE EVALUATED, WHO SHOWS UP, WHO COMMUNICATES AND WHO PUTS IN THE WORK AND COMES READY TO PLAY WILL ALWAYS HAVE OPPORTUNITIES TO KEEP PLAYING AND IMPROVING AND A GREATER CHANCE OF PLAYING BEYOND HS. FOR MORE INFO CALL OR EMAIL 602-332-7156 COACHJPL@ICLOUD.COM
FEE INFORMATION WILL BE DETERMINED AND COMMUNICATED THE WEEK OF THE FIRST WORKOUT. 
BE SURE TO ORDER JERSEYS IF YOU DONT HAVE ALL 3  AND PRACTICE GEAR IF YOU'D LIKE. CHOOSE YOUR JERSEY SIZES AND NUMBERS WE HAVE BLACK, YELLOW AND CAMO JERSEYS. THESE WILL BE WORN THROUGHOUT YOUR HS CAREER. CLICK THE LINK BELOW TO ORDER. DEADLINE AUG 16 2021. ALL GEAR WILL BE DELIVERED TO GJ AND DISTRIBUTED. 
FALL  PRACTICE AND GAME SCHEDULE
ALWAYS COMMUNICATE ATTENDANCE AT GAMES OR WORKOUTS!
SCHEDULE SUBJECT TO CHANGE ALWAYS CHECK WEBSITE OR TEXT 602-332-7156
BE IN FULL UNIFORM FOR ALL WORKOUTS AND GAMES UNLESS COMMUNICATED OTHERWISE 
 18U NEJC 1801 VERDE AVE STERLING COLORADO 80751
SATURDAY -SUNDAY SEPT 18-19  NORTHEASTERN JC TEAM SHOWCASE STERLING 
COLORADO WEAR WHITE PANTS/BLACK JERSEYS
Saturday September 18th 6PM vs Lincoln
Saturday September 18th 830PM vs NEJC
Sunday September 19th 1PM vs CBA
18U SPLIT SQUADS TBA 9 INNING GAMES WEAR YELLOW JERSEYS
SUNDAY SEPTEMBER 26 18U  AT CNCC RANGELY COLORADO 11AM DH
EARLY GROUP ARRIVES 10AM LATE GROUP ARRIVES 1PM 
16U 
PRACTICE/SCRIMMAGE
SUN SEPT 19 10AM GJHS WITH COACHES REMPEL AND PEDEN
16U GAMEDAY BIG FLY  TOURNEY 9/25-26 PARKER COLORADO  TBA
SATURDAY SEPTEMBER 25
SUNDAY SEPT 26
16U 
PRACTICE/SCRIMMAGE  SUN OCT 10 10AM GJHS WITH COACHES REMPEL/PEDEN
FOR PLAYERS GOING TO GAMEDAY NATIONAL SPORTS DAY CLASSIC OCT 16-17
16U GAMEDAY NATIONAL SPORTS DAY CLASSIC PARKER COLORADO
SATURDAY/SUNDAY  OCTOBER 16-17 TBA
SCHEDULE SUBJECT TO CHANGE CHECK BACK OFTEN
OPPORTUNITIES FOR SELECT PLAYERS IN VEGAS AND PHOENIX FALL/WINTER
COACHING STAFF WILL INCLUDE LEFEBRE, REMPEL, PEDEN AND  REIHER.