ROCKY MOUNTAIN OYSTERS WESTERN SLOPE FALL BASEBALL 2023
RMO FALL BASEBALL WILL BEGIN THE WEEKEND OF AUG 19-20.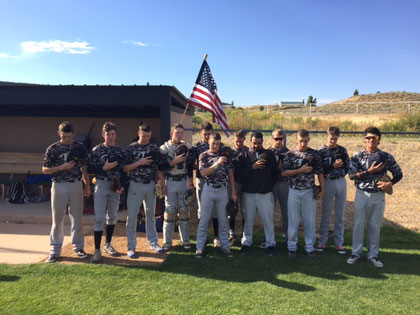 RMO FALL BASEBALL 2023                  OUR FOCUS IS ALWAYS PLAYER DEVELOPMENT AND PREPARING HS PLAYERS TO PLAY AT THE NEXT LEVEL. THE MORE YOU HAVE YOUR SPIKES IN THE DIRT THE BETTER YOU WILL BECOME! #BALLSOUT
ROCKY MOUNTAIN OYSTERS FALL BASEBALL IS A GREAT OPPORTUNITY TO PLAY A COMPETITIVE SCHEDULE IN THE FALL AND TO CONTINUE TO DEVELOP YOUR GAME. COMMITTED PLAYERS IN LARGER METRO AREAS AND ESPECIALLY WARMER CLIMATES  ARE PLAYING THE GAME YEAR ROUND AND THATS WHO "YOU" ARE COMPETING WITH FOR OPPORTUNITIES AND SCHOLARSHIPS  AT THE NEXT LEVEL. WE WILL PLAY EVERY WEEKEND MID AUGUST UNTIL THE BEGINNING OF OCTOBER."IF YOU'RE NOT PLAYING AND GETTING BETTER AND IMPROVING YOUR GAME SOMEONE ELSE OUT THERE IS".  THE FALL IS A GREAT TIME TO DEVELOP AND IMPROVE. 18U  WILL HAVE A CMU TOURNEY AND  HAVE FRONT RANGE TRIPS AT COLLEGE TOURNEYS CSU PUEBLO  AND NEJC IN STERLING  THAT WILL HAVE COLLEGE COACHES IN ATTENDANCE. AND WE WILL ALSO PLAY JUNIOR COLLEGES IN THE FALL, CNCC IN RANGELY AND CEU IN PRICE UTAH TO PLAY A HIGHER LEVEL OF BASEBALL AND TO SEE WHAT ITS LIKE TO COMPETE AGAINST COLLEGE LEVEL TALENT. . WE WILL ALSO HAVE 15U/16U TOURNEY OPPORTUNITIES IN DENVER  AND IN VEGAS AND ARIZONA ALL FALL AND WINTER. PLAYERS WILL BE CONTINUALLY BE EVALUATED, WHO SHOWS UP, WHO COMMUNICATES AND WHO PUTS IN THE WORK AND COMES READY TO PLAY WILL ALWAYS HAVE OPPORTUNITIES TO KEEP PLAYING AND IMPROVING AND A GREATER CHANCE OF PLAYING BEYOND HS. FOR MORE INFO CALL OR EMAIL 602-332-7156 COACHJPL@ICLOUD.COM
PLEASE DOWNLOAD AND PRINT THE "25" THIS IS IMPORTANT INFORMATION ABOUT CERTAIN THINGS WE DO TO BE SUCCESFUL ON THE FIELD!

ROCKY MOUNTAIN OYSTERS BASEBALL 'THE "25"
INFORMATION ABOUT HOW TO BE A SUCCESFUL BASEBALL PLAYER ON THE FIELD.
RMO BASEBALL THE 25.docx
Microsoft Word Document
16.8 KB
FALL  PRACTICE AND GAME SCHEDULE
RMO FALL BASEBALL IS OPEN TO ANY PLAYERS GRADES 8-12 AND THERE WILL BE DEVELOPMENT OPPORTUNITIES FOR PLAYERS TO PRACTICE, SCRIMMAGE AND TOURNEYS TO GET COMPETITIVE GAME REPS. AND FOR OLDER PLAYERS (2024, 2025 GRADS AND SELECT UNDERCLASSMEN THE OPPORTUNITY TO PLAY JUNIOR COLLEGES IN COLORADO AND ARIZONA). THERE WILL BE 2 FEES TBD, THE FEE TO PLAY FALL BASEBALL AND THE FEES TO PLAY IN THE OUT OF TOWN TOURNEYS AND COMBINE TO COVER EVENT ENTRIES AND OR FIELD RENTALS, UMPIRES, AND COACHES $ AND TRAVEL INCLUDING HOTELS. AFTER FALL BALL ENDS IN OCTOBER THERE WILL BE WINTER OPPORTUNITIES IN LAS VEGAS AND PHOENIX, A 4 DAY SHOWCASE CAMP IN PHOENIX DEC 27-30 AND TOURNEY OPPORTUNITIES AS WELL IN WARM WEATHER ALL TO GET GAME REPS AND PREPARE FOR HS BASEBALL IN THE SPRING. ALL PLAYERS MAY COME TO ALL WORKOUTS, SCRIMMAGES IN GJ AND PITCHERS/CATCHERS WORKOUTS AND OPEN HITTING AT BLUECHIP. THE TOURNEY TEAMS FOR 15U/16U WILL HAVE LIMITED ROSTERS BUT OPPORTUNITIES MAY ARISE FOR AVAILABLE PLAYERS THAT SHOW UP AND SHOW THEY WANT TO PLAY. THE EXPECTATION FOR ALL PLAYERS IS TO DO WEEKLY WORK TO BE PREPARED FOR WEEKEND PRACTICES AND GAMES. REMEMBER ALL OF OUR PLAYERS ARE COMPETING FOR FUTURE COLLEGE BASEBALL OPPORTUNITIES AND SCHOLARSHIPS. THE MORE OUR PLAYERS HAVE THEIR SPIKES IN THE DIRT THE MORE OPPORTUNITIES TO IMPROVE.  
FALL BALL COACHING STAFF WILL INCLUDE:
JOE LEFEBRE -30+ YEARS COLLEGE , HS, CLUB COACHING AND SCOUTING WITH 4 MLB ORGANIZATIONS
MATT PHIPPS- FORMER DIVISION 1 CATCHER WESTERN KENTUCKY UNIVERSITY AND PROFESSIONAL PLAYER
HANK BULLOCK- LONGTIME LOCAL CLUB  BASEBALL COACH
KESTREL DICKERSON- LONGTIME AREA BASEBALL COACH
ALWAYS COMMUNICATE ATTENDANCE AT GAMES OR WORKOUTS!
SCHEDULE SUBJECT TO CHANGE ALWAYS CHECK WEBSITE OR TEXT 602-332-7156
BE IN FULL UNIFORM FOR ALL WORKOUTS AND GAMES UNLESS COMMUNICATED OTHERWISE.. SCHEDULES SUBJECT TO CHANGES, ALWAYS CHECK WEBSITE FOR ANY CHANGES OR UPDATES. 
WE WILL HAVE FALL TEAM SCHEDULES FOR 15U, 16U, 17U and  18U.
FALL HITTING WORKOUTS AND PITCHERS/CATCHERS WORKOUTS OPEN TO ALL PLAYERS FOR EXTRA WORK, REPS AND INSTRUCTION. 
TUESDAY SEPT 19  430-7 OPEN HITTING BLUECHIP BASEBALL FACILITY
WEDNESDAY SEPT 20 430-6 PITCHERS/CATCHERS WORKOUT DICKERSON FIELD GJ
TUESDAY SEPT 26 430-7 OPEN HITTING BLUECHIP BASEBALL GJ
WEDNESDAY SEPT 27 430-6 PITCHERS/CATCHERS WORKOUT DICKERSON FIELD GJ
COLLEGE BASEBALL RECRUITING SEMINAR FOR ALL PLAYERS AND PARENTS TBA
FALL SCHEDULE 2023
18U -2024 17U 2025 16U 2026 15U 2027U SOME PLAYERS MAY PLAY UP CERTAIN EVENTS.
CHECK WEBSITE WEEKLY FOR LOCATIONS AND TIMES
WEEK 1 AUGUST 19-20
WEEK 2 AUGUST 26-27
18U/17U AT CSUP TOURNEY PUEBLO COLORADO 
16U CDC FALL KICKOFF DENVER 
WEEK 3 SEPTEMBER 2-3
18U RMO BLACK CMU TOURNEY GRAND JUNCTION 
15U/16U  CLASSES 2027, 2028 PRACTICES/SCRIMMAGE SUNDAY SEPT 3  9-1 CANYON VIEW FIELD GRAND JUNCTION
WEEK 4 SEPTEMBER 9-10
PRACTICE SCRIMMAGE ALL AVAILABLE PLAYERS BESIDES 16U GAMEDAY  TBA CANYON VIEW FIELD GJ SUN SEPT 10 9-1 PM. 
16U GAMEDAY MOONSHOT TOURNEY  SEPTEMBER  9-10 PARKER COLORADO 
WEEK 5  SEPTEMBER 16-17
18U AT NEJC INVITATIONAL STERLING COLORADO
ALL GAMES AT NEJC FIELD STERLING
18U GAMEDAY INVITATIONAL PARKER COLORADO
WEEK 6 SEPTEMBER 23-24
18U SUNDAY SEPTEMBER  24 VS CNCC RANGELY COLO 
17U SUNDAY SEPTEMBER 24 VS CNCC RANGELY COLO
NO PRACTICES THIS WEEKEND MOSTLY EVERYONE IS PLAYING, FINAL HITIING SESSION TU 430-7 AND PITCHERS/CATCHERS WED 430-6.
15U GAMEDAY TOURNEY PARKER COLORADO 
GAME 1
SAT SEPT 23 3PM LOGAN FIELD VS BASEBALL COLLAB
SAT SEPT 23 5PM DILLON FIELD VS DUKES
SUN SEPT 24 TBA AFTER POOL PLAYS B
WEEK 7 OCTOBER 1

ALL AVAILABLE PLAYERS FINAL PRACTICE/SCRIMMAGE
 SUN OCT 1 CANYON VIEW FIELD 9AM-12 NOON
OPTIONAL GAMEDAY TOURNEYS PLEASE LET ME KNOW AVAILABILITY FOR THESE EVENTS.
16U GAMEDAY COLORADO FALL CHAMPIONSHIPS SAT/SUN OCTOBER 7-8    PARKER COLORADO
15U COLORADO CLASSIC FALL CHAMPIONSHIPS DENVER 
DESERT FALL CLASSIC LAS VEGAS NEVADA OCT 27-29 15U/16U/18U
OPTIONAL 14U/15U/SWWBC FALL CHAMPIONSHIPS NOV 3-5 PHOENIX AZ