Las Vegas WCP  Desert Fall Classic 2022
THE WCP DFC LAS VEGAS TOURNEY OCTOBER 28-30 2022
The 32nd Annual Las Vegas Baseball Academy Desert Fall Classic is October 28-30 2022 Las Vegas Nevada. The tourney has a 4game guarantee and features top teams from several States. All players must secure their own transportation to and from Las Vegas and arrive by Thursday October 27th. 4 Pool Play games will be played on Friday and Saturday and qualifying teams will play on Sunday single elimination with Championship games late afternoon. We will compete with 16U AND 18U teams in 2022. 
Please download the following detailed information. Also complete a player profile on our homepage. Pay fees at PAY and REGISTER page. Please call or email if you need more information. Joe 602-332-7156 coachjpl@icloud.com. Tourney updates and info at www.lvbaseballacademy.com. Rosters due by Oct 10.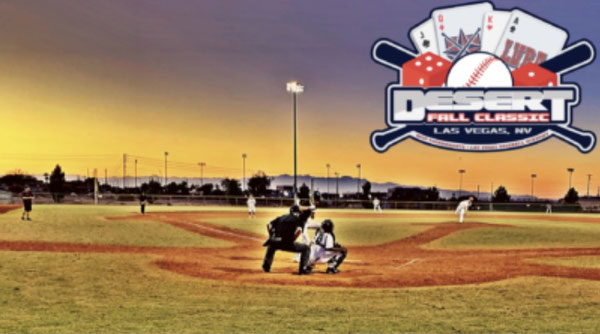 LAS VEGAS DFC  INFO OCT 28-30, 2022
                  FEE FOR VEGAS TOURNEY $175

DESERT FALL CLASSIC TOURNEY LAS VEGAS 16U/18U OCT 28-30 2022
COMPETITIVE TOURNEY, 4 GAME GUARANTEE , LAS VEGAS NEVADA OCT 28-30 2022
DFC LAS VEGAS 2022 INFO 16U 18U.docx
Microsoft Word Document
3.3 KB
GO TO WWW.WCPTOURNAMENTS.COM FOR ALL UPDATES
Please arrive anytime Thu Oct  27 . We will wear Black tops, white pants, black belt and socks and RM Oysters hats or any black hat. Wood bats or -3 bats allowed. All players must have a drivers license, permit or birth certificate for age certification before games start. All rules, schedules and directions to fields at the LVBA website
lvbaseballacademy.com  Please call or text Joe with any questions at 602-332-7156
PLEASE DOWLOAD THE LVBA TOURNAMENT APP FOR ALL TOURNEY INFO, SCHEDULES, FIELD LOCATIONS UPDATES ETC.
PLEASE ARRIVE 1 HOUR BEFORE GAME TIMES
ALL GAMES IN POOL PLAY TBA
16U Schedule:TBA
Fri Oct 28  
Fri  Oct28 
Sat  Oct 29  
Sat Oct 29
Sun Oct  30 TBA if Pool Winners or at large seed
18U Schedule: TBA
Fri Oct 28 
Fri Oct 28 
Sat Oct 29  
Sat Oct 29
Sun Oct 30  TBA if Pool Play Winners