THIS IS THE HOME FOR ARIZONA TOTAL BASEBALL AND ROCKY MOUNTAIN BASEBALL
WE DEVELOP BASEBALL PLAYERS
SUBMIT A PLAYER PROFILE TO REGISTER WITH ATB OR RMB.
PLEASE COMPLETE PLAYER PROFILE, WAIVER AND  EVENT REGISTRATION FORM FOR ALL ATB/RMB EVENTS. PAY FOR ALL EVENTS  ON THE  PAYMENTS PAGE. THANKS!
RMO/ATB UPCOMING EVENTS
ATB WINTER BREAK SHOWCASE CAMP DEC 27-30 2023 PHOENIX ARIZONA
JANUARY CLASSIC  TOURNEY 14U/16U/18U PHOENIX AZ JAN 20-21 2024
PITCHERS SUMMIT  PHOENIX AZ JANUARY 27-28 2024
YOUTH SPRING TRAINING FEBRUARY 2-4 GRADES 3-8 PHOENIX ARIZONA
PRESIDENTS WOOD BAT TOURNEY 16U/18U TOURNEY FEB 17-19 2024
PITCHERS CLINIC GRAND JUNCTION  WITH JON HUIZINGA FEB 2024 TBA
PITCHING CLINIC GRAND JUNCTION  WITH JON HUIZINGA MAY 2024 TBA
RMO SUMMER BASEBALL 16U/18U JUNE-JULY SUMMER 2024
TELLURIDE BASEBALL FESTIVAL TOURNEY 16U/18U JULY 26-28  2024
ROCKY MOUNTAIN BASEBALL SHOWCASE AT CMU AUGUST 2-4  2024
ROCKY MOUNTAIN FALL BASEBALL AUG-OCT 2024
ARIZONA JUNIOR COLLEGE COMBINE OCT 10-12 2024
DESERT FALL CLASSIC LAS VEGAS NEVADA 15U/16U/18U OCT 24-27 2024
NOTABLE PLAYERS THAT HAVE PLAYED FOR COACH LEFEBRE
Former Rocky Mountain player Mark Melancon of the Arizona Diamondbacks
Khris Davis Texas Rangers, Eric Young Jr, played for Mets, Rockies, Yankees, Rockies, Braves and Angels, CJ Cron Colorado Rockies, Luke French played for  the Seattle Mariners, Brett Nicholas played for the Texas Rangers , Lou Marson played for the Cleveland Indians. Charles Brewer played for the Arizona Diamondbacks. Chase Headley played for the Yankees and Padres.Tom Wilhelmsen played for the Mariners, Diamondbacks and Texas Rangers. Jaff Decker played for Padres, A's and Pirates, Beau Brieske-Detroit Tigers
TRAVIS LEE GOLDEN SPIKES AWARD WINNER TOP PLAYER IN COLLEGE BASEBALL SAN DIEGO STATE UNIVERSITY AND FORMER FIRST ROUND DRAFT PICK. PLAYED FOR DIAMONDBACKS, YANKEES, PHILLIES AND RAYS. PLAYED FOR USA NATIONAL TEAM. 
ROCKY MOUNTAIN PLAYERS THAT HAVE PLAYED FOR  USA NATIONAL TEAMS:
NICK BEGHTOL BROOMFIELD COLORADO 16U NATIONAL TEAM, MIKE ROGERS OKLAHOMA CITY OKLAHOMA 16U AND 18U NATIONAL TEAMS.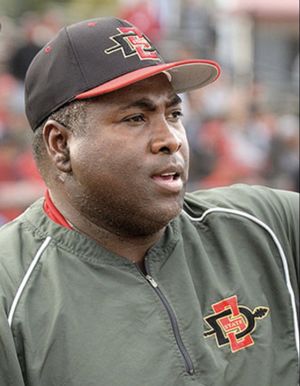 I CALL THEM THE FAB FOUR, 4 PITCHERS I COACHED WHO ALL PLAYED FOR THE SAN DIEGO STATE AZTECS AND FOR HALL OF FAMER TONY GWYNN. ALL 4 PLAYED PROFESSIONAL BASEBALL. STEVE HIRSCHFELD,MOAB UTAH,LANCE SEWELL,EL PASO TEXAS,MIKE KOONS,CASTLE ROCK COLORADO AND BRANDON PULLEN IDAHO FALLS IDAHO. 4 GREAT PLAYERS.
Major League Players with Grand Junction roots. Sam Haggerty, Seattle Mariners, Son of Kevin and Lisa Haggerty and Jordan Holloway, Miami Marlins, Son of Brian and Linda Holloway.
Arizona Total Baseball and Rocky Mountain Baseball offer year round baseball opportunities; camps, travel teams, tournament teams, showcases, instruction and recruiting services in both Phoenix, Arizona (Arizona Total Baseball) and Grand Junction, Colorado (Rocky Mountain Baseball). Our Winter Break Showcase Camp established in 2000 attracts players from throughout the United States. The 4 day Camp takes place every year December 27-30 in Phoenix, Arizona.  The purpose of the camp is twofold; offer top notch Professional instruction for High School players to prepare for the upcoming Season and for players wanting to play at the next level an opportunity to work with coaches from 15+ quality College baseball programs who will instruct, evaluate and possible recruit those in attendance.

Rocky Mountain Baseball offers baseball opportunities for High School players in Western Colorado as well as players from other areas in the Summer, Fall, Winter and Spring. Rocky Mountain has a Select High School travel team that plays early June through late July. The Rocky Mountain Showcase takes place late July or early August every Summer and features Coaches that travel to Grand Junction to instruct and evaluate. Our Fall program includes games against Junior Colleges as well as Showcase Tournaments in Denver, Colorado and Salt Lake City, Utah.

Other events in Grand Junction include the Bobby Bell Hitting Clinic and a Pitchers and Catchers Camp in the Winter and Spring. If you a player who wants to improve, play a higher level of competition and possibly play at the the "NEXT LEVEL" please contact us to learn more about our organization.

The game of Baseball is a difficult game to play, the more experience you have and the more time spent playing and practicing at a high level will help you improve and meet your goals! WE DEVELOP PLAYERS AND PREPARE THEM TO PLAY AT THE NEXT LEVEL!!

For more information 602-332-7156 coachjpl@icloud.com

"DON'T TAKE A DAY OFF AND DON'T TAKE A PLAY OFF"!!!!!!!!!!!!!