ROCKY MOUNTAIN OYSTERS BASEBALL  PARENT AND PLAYER INFORMATION SUMMER - FALL 2023.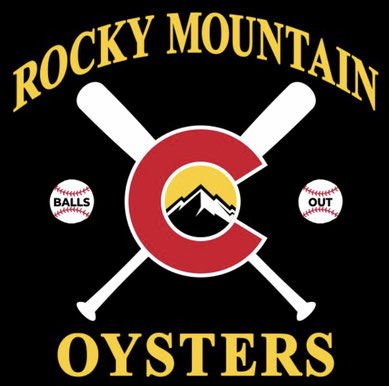 THE ROCKY MOUNTAIN OYSTERS BASEBALL ORGANIZATION WAS ESTABLISHED ON THE WESTERN SLOPE OF COLORADO IN GRAND JUNCTION IN 2012 AND OUR PARTNER PROGRAM WITH ARIZONA COLLEGE COACHES, ATB (ARIZONA TOTAL BASEBALL) WAS ESTABLISHED IN 1993 IN PHOENIX ARIZONA. THE OYSTERS PROGRAM TO DATE HAS HELPED PLACE 150+ PLAYERS FROM THROUGHOUT THE WESTERN SLOPE AND BEYOND TO COLLEGE BASEBALL PROGRAMS AT ALL LEVELS D1, D2, D3, NAIA AND JUNIOR COLLEGES NATIONWIDE. (SEE THE COMPLETE LIST ON THIS WEBSITE ON THE OYSTERS TO THE NEXT LEVEL PAGE). OUR ATB PHOENIX AZ BASED PROGRAM DEVELOPED 60+ DIVISION 1 PLAYERS TO PROGRAMS LIKE AZ STATE, U OF SAN DIEGO, ARIZONA, UTAH, GONZAGA, GRAND CANYON, UCLA, SAN DIEGO STATE, PORTLAND, OREGON STATE, WASHINGTON STATE, TEXAS TECH, NOTRE DAME. NEBRASKA, SANTA CLARA, ST MARYS, SAN FRANCISCO, USC, BYU, NEW MEXICO, AIRFORCE ACADEMY, WEST POINT ETC TO NAME A FEW BEFORE WE MOVED OUR PROGRAM TO WESTERN COLORADO) 
OUR PROGRAM IS FOR COMMITTED BASEBALL PLAYERS WHO HAVE THE ULTIMATE GOAL TO PLAY BEYOND HIGH SCHOOL FURTHERING EDUCATIONS, OBTAINING COLLEGE DEGREES AND HAVING THE COLLEGE BASEBALL EXPERIENCE AND DEVELOPING LIFELONG RELATIONSHIPS AND MEMORIES AND LEARNING THE LIFE LESSONS ALONG THE WAY THAT LEAD TO SUCCESS IN LIFE.
A LITTLE ABOUT ME THE DIRECTOR AND GENERAL MANAGER OF BOTH THE ROCKY MOUNTAIN OYSTERS AND THE ATB PROGRAM IN PHOENIX ARIZONA.
I'M A NATIVE OF GRAND JUNCTION, PLAYED AT GJHS AND GRADUATED IN 1983, I FINISHED MY COLLEGE BASEBALL CAREER AT EASTERN OREGON UNIVERSITY WHERE I ALSO BEGAN MY COACHING CAREER. I'VE HAD THE AMAZING PRIVILEDGE TO SCOUT FOR 4 MAJOR LEAGUE ORGANIZATIONS, THE CLEVELAND INDIANS, ATLANTA BRAVES, ARIZONA DIAMONDBACKS ( I RAN THE HS SCOUT TEAM IN AZ FOR  THE DBACKS FOR 8 YEARS FEATURING THE TOP ARIZONA HS TALENT  MLB PLAYERS KHRIS DAVIS, CJ CRON, AARON BUMMER JUST A FEW TO PLAY FOR DBACKS SCOUT TEAMS) AND NEW YORK YANKEES - I'VE COACHED AT 4 COLLEGES, EASTERN OREGON UNIVERSITY, SHORELINE COMMUNITY COLLEGE- SEATTLE WASHINGTON , PHOENIX COLLEGE AND PARADISE VALLEY COMMUNITY COLLEGE BOTH IN PHOENIX ARIZONA. AT THE HIGH SCHOOL LEVEL I'VE COACHED AT A NATIONALLY RANKED HIGH SCHOOL PROGRAM THE MOON VALLEY ROCKETS IN PHOENIX AND ALSO OVERLAND HS IN DENVER. IN MY 30+ YEARS COACHING AND SCOUTING I'VE HELPED 300+ PLAYERS MOVE ON TO THE NEXT LEVEL BEYOND HIGH SCHOOL INCLUDING 20+ MAJOR LEAGUERS. OVER THE YEARS I'VE DEVELOPED A RELATIONSHIPS WITH COLLEGE COACHES AT ALL LEVELS IN STATES THROUGHOUT THE COUNTRY. THESE RELATIONSHIPS ARE INSTRUMENTAL IN HELPING PLACE AND GUIDE OUR PLAYERS WITH THE OPPORTUNITIES TO PLAY AT THE NEXT LEVEL.
BEING FROM COLORADO AND ESPECIALLY FROM THE WESTERN SLOPE AND OUR MOUNTAIN COMMUNITIES IT PRESENTS SOME CHALLENGES TO BEING RECRUITED, ESPECIALLY WHEN COMPARED TO BIGGER CITIES AND WARMER CLIMATES WHERE PLAYERS HAVE THE OPPORTUNITY TO PLAY YEAR ROUND AGAINST QUALITY COMPETITION AND CONTINUALLY HAVE LOCAL EXPOSURE OPPORTUNITIES. 
WE OFFER YEAR ROUND BASEBALL DEVELOPMENT AND TRAINING  OPPORTUNITIES, A SUMMER PROGRAM, FALL PROGRAM, FALL, WINTER  TOURNAMENT AND SHOWCASE OPPORTUNITIES IN NEVADA AND ARIZONA AND WHEN WE PLAY IN ARIZONA WE USUALLY PLAY IN FRONT OF COLLEGE COACHES. DURING OUR FALL PROGRAM WE PLAY JUNIOR COLLEGES WHICH IS USUALLY AN EYE OPENING EXPERIENCE AS FAR AS THE NUMBERS, TALENT AND PHYSICALITY OF THE COLLEGE PLAYERS, IT'S A GOOD BAROMETER TO SEE WHERE A PLAYER STANDS WHEN MATCHED UP AGAINST COLLEGE PLAYERS. WE ALSO PROVIDE INDIVIDUAL AND GROUP TRAINING, CLINICS AND CAMP AND SHOWCASE OPPORTUNITIES WITH COLLEGE COACHES. THE FEES TO PLAY COVER TEAM INSURANCE, BASEBALLS AND EQUIPMENT, FIELD RENTALS, UMPIRES, TOURNEY ENTRY FEES, COACHES PAY, COACHES HOTEL AND TRAVEL EXPENSES AND HOTELS FOR 18U PLAYERS. OUR PROGRAM IS VERY AFFORBALE ESPECIALLY COMPARED TO THE FRONT RANGE TEAMS, PLEASE DO YOUR RESEARCH.
OUR PROGRAM IS ABOUT ENHANCING THE HIGH SCHOOL BASEBALL EXPERIENCE BY PROVIDING FURTHER DEVELOPMENT AND PLAYING OPPORTUNITIES  PREPARING PLAYERS TO PLAY BEYOND HS AND ALSO LEARNING LIFE SKILLS LIKE COMMITMENT, TEAMWORK. DISCIPLINE, ACCOUNTABILITY AND COMMUNICATION SKILLS TO COMPETE IN LIFE BEYOND THE BASEBALL FIELD. I'VE HAD THE OPPORTUNITY OVER MY COACHING AND SCOUTING CAREER TO HAVE A LONG TRACK RECORD OF EVALUATING AND DEVELOPING PLAYERS AT ALL LEVELS. I'VE BEEN A HIGH SCHOOL COACH, A SCOUT, A COLLEGE RECRUITER FOR 4 COLLEGE PROGRAMS AND I'VE ALSO BEEN A MENTOR TO PLAYERS AND PARENTS PERTAINING TO THE COLLEGE BASEBALL RECRUITING PROCESS FOR MANY YEARS.
PLAYING BASEBALL BEYOND HS IS NOT AN EASY TASK, THE LEVEL OF PLAY AND THE COMMITMENT REQUIRED WILL BE CHALLENGING AND MOST COLLEGE COACHES DON'T GET TO FOCUS ON RECRUITING DURING THE REGULAR HS SEASON BECAUSE THEY ARE PLAYING THEIR OWN SEASON AT THE SAME TIME. FOR GRAND JUNCTION AND WESTERN SLOPE AND MOUNTAIN AREA  PLAYERS   THE CMU COACHES WILL BE AT LOCAL HS GAMES FROM TIME TO TIME BUT CMU IS A PERENNIAL NATIONAL POWER AT THE D2 LEVEL AND THEY WILL ONLY RECRUIT THE TOP COLORADO HS TALENT. MY CURRENT COLLEGE COACHES DATABASE HAS OVER 200 PROGRAMS MANY OF WHICH I'VE DEVELOPED RELATIONSHIPS OVER THE YEARS, D1, D2, D3. NAIA AND JUNIOR COLLEGES.  USUALLY WHEN COLLEGE COACHES GET EMAILS FROM WESTERN SLOPE AND MOUNTAIN COMMUNITY PLAYERS BY  EMAIL OR BEING SEEN AT CERTAIN EVENTS. I AM ALWAYS PROMOTING WESTERN SLOPE PLAYERS AND PLAYERS THAT PLAY IN OUR PROGRAM TO COLLEGE PROGRAMS. FALL AND WINTER OPPORTUNITIES TO GET ON THE FIELD IN THE WINTER MONTHS IN LAS VEGAS AND PHOENIX  WHEN ITS COLD IN COLORADO AND OTHER STATES ARE GREAT OPPORTUNITIES TO GET REPS AND STAY SHARP THESE CAN BE TOURNEYS, ROUND ROBIN EVENTS AND GAMES AND SOMETIMES SHOWCASE STYLE (6 BATTERS OR 3 OUTS) WE ALSO SOMETIMES USE THIS FORMAT WHEN WE PLAY THE JUNIOR COLLEGES TO KEEP THE GAMES MOVING. 
OUR 18U TEAMS GOLD AND BLACK ALWAYS STAY TOGETHER ON THE ROAD WHICH ENHANCES THE PLAYING EXPERIENCE TO BE MORE LIKE COLLEGE BASEBALL, IT REQUIRES ANOTHER LEVEL OF RESPONSIBILITY ROOMING WITH TEAMMATES AND GETTING PROPER REST AND BEING RESPONSIBLE FOR GETTING UP AND BEING READY TO PLAY.
WHAT CAN A PLAYER DO TO BE MORE RECRUITABLE AND A POSSIBLE COLLEGE PLAYER? THE FOLLWING INFORMATION AND THE ATHLETE RESUME ON A SEPARATE PAGE ON OUR WEBSITE IS A GREAT PLATFORM THAT IS VERY AFFORDABLE.
BE A REALLY GOOD PLAYER , HAVE SKILLS THAT TRANSFER TO THE COLLEGE LEVEL. BAT SPEED, RUNNING SPEED, ATHLETICISM, DEFENSIVE SKIILS, HIGH CHARACTER AND GOOD COMMUNICATION SKILLS AND MOST IMPORTANTLY BE AN EXCEPTIONAL STUDENT. COLLEGE COACHES CARE ABOUT GOOD GRADES AND YOUR GPA AND TEST SCORES ARE OF MOST  IMPORTANCE! MEET WITH ME TO FORM A GAMEPLAN!
THE PROCESS:  PLAY THE GAME EVERY OPPORUNITY YOU CAN, ALWAYS BE PUTTING WORK IN, WEIGHTROOM, CAGE AND HITTING WORK, THROWING PROGRAMS TO BUILD ARM STRENGTH AND COMMAND AND DEFENSIVE ABILITY. YOU MAY BE A TOP PLAYER ON YOUR TEAM OR IN YOUR AREA BUT YOU'RE COMPETING WITH PLAYERS FROM  ALL OVER THE COUNTRY FOR SCHOLARSHIPS AND COLLEGE ROSTER OPPORTUNITIES. OUR DEVELOPMENT GOAL IS FOR PLAYERS OF ANY SIZE, GRADE OR SCHOOL TO HAVE OPPORTUNIES TO PLAY THE GAME AS WELL AS TRAINING OPPORTUNITIES TO KEEP IMPROVING, IT'S ALWAYS HARD TO PREDICT WHO WILL BE SUCCESFUL IN BASEBALL BUT THE PLAYERS THAT CONTINUALLY WORK TRAIN AND PLAY FIND THE MOST SUCCESS AND THE OPPORTUNITIES BEYOND HS. 
EMAIL COLLEGE COACHES  WITH ALL YOUR PERTINENT INFO, GPA AND HAVE A VIDEO LINK. BE REALISTIC ABOUT THE THE COLLEGE LEVEL YOU CAN PLAY. KEEP PLAYING TO IMPROVE AND ATTEND EVENTS, TOURNEYS, PROSPECT CAMPS AND SHOWCASES THAT COLLEGE COACHES ARE EVALUATING IN PERSON. I CAN ADVISE ON THESE EVENTS. ALWAYS BE PREPARED BEFOREHAND WHEN TAKING PART IN THESE EVENTS. YOU NEVER KNOW WHO WILL BE WATCHING. PLAYING HARD WITH ENERGY AND PLAYING SMART  WILL CATCH COACHES ATTENTION. NO ONE LIKES TEMPER TANTRUMS. MELTDOWNS AND BAD BODY LANGUAGE. 
USE YOUR FINANCIAL AND TIME RESOURCES WISELY, I DON'T RECOMMEND PAYING FOR RECRUITING SERVICES AND ADVISORS,  YOU CAN DO ALL THAT AND MORE WITH A GAMEPLAN WHICH I CAN HELP YOU WITH.
I'M FROM THE WESTERN SLOPE SO I UNDERSTAND THE CHALLENGES FOR WESTERN SLOPE PLAYERS WHEN TRYING TO GET A SCHOLARSHIP OR OPPORTUNITY, WE HAVE HAD PLAYERS IN OUR PROGRAM AND ON OUR TEAMS FROM MANY STATES SO IT DOESN'T MATTER WHERE YOU ARE FROM,  BIG CITY OR SMALL IF YOU'RE COMMITTED AND YOU HAVE A PLAN AND YOU'RE  SELF MOTIVATED AND WILLING TO PUT THE WORK IN YOU AS A PLAYER MAY EARN ONE OF THOSE LIMITED OPPORTUNITIES. THIS PAST  COUPLE YEARS  HAS BEEN CHALLENGING FOR EVERYONE DEALING WITH COVID AND WE ALL DID THE BEST WE COULD AND COVID IS STILL IMPACTING RECRUITING AND COLLEGE ROSTERS.  THE KEY IS TO  STAY POSITIVE AND KEEP PUTTING IN THE WORK IN TO MAKE  THOSE GOALS ATTAINABLE. OUR PLAYERS HAVE HAD THE OPPORTUNITIES TO PLAY IN THE GATES WORLD SERIES, CONNIE MACK WORLD SERIES, CONNIE MACK WEST REGIONALS, USA NATIONAL TEAMS, THE AREA CODES TRYOUT AND AREA CODE NATIONAL ROSTER, AZ FALL CLASSIC SHOWCASES AND FOR THE TOP TEAMS IN ARIZONA INCLUDING THE AZ ATHLETICS. WE CAN ALWAYS TAYLOR A SCHEDULE FOR PLAYERS TO PLAY IN THE TOP NATIONAL EVENTS. AS WE TRANSITION TO FALL  WINTER  2023-2024 AFTER THE SUMMER.  BEFORE THE NEXT HS SEASON THERE WILL BE SEVERAL OPPORTUNITIES IN THE WINTER MONTHS MOSTLY IN AZ TO GET REPS, GAMES AND EXPOSURE THE KEY TO BEING RECRUITED. OUR WINTER SHOWCASE DECEMBER 27-30 AN EVENT THAT WILL BE  IN ITS 24TH YEAR THIS DECEMBER IS A GREAT EXPOSURE EVENT WITH 16+ COLLEGES AND ALSO A CHANCE FOR REPS, WORK AND GAMES TO PREPARE FOR THE SPRING SEASON. KEEP AN EYE ON THE UPDATED EVENTS SCHEDULE ON OUR HOMEPAGE.  
I WILL CONTINUE TO MENTOR YOUNG PEOPLE AND I WILL HELP ANY PLAYER AND FAMILY THAT PLAYS IN OUR PROGRAM OR ASKS FOR ASSISTANCE. BASEBALL IS AN INCREDIBLE GAME BUT IT'S NOT EASY AND IT'S ONLY HARDER BEYOND HS. TO HAVE THE COLLEGE BASEBALL EXPERIENCE AND THE OPPORUNITY TO OBTAIN A COLLEGE DEGREE WILL IMPACT YOUR LIFE IN INCREDIBLE WAYS AND WILL CREATE LIFELONG RELATIONSHIPS AND MEMORIES. I WILL GLADLY CALL AND EMAIL COACHES THAT I KNOW ON OUR PLAYERS BEHALF AS I'VE DONE FOR COUNTLESS PLAYERS. SHOW UP, COMMUNICATE, WORK, WORK , WORK AND IMPROVE AND ALWAYS SHOW UP READY TO PLAY, COMPETE AND IMPROVE. WE WON'T ALWAYS PLAY WELL AND THE GAME CAN BE CRUEL AND UNFORGIVING AT TIMES BUT BEING A COMPETITOR THAT ALWAYS BRINGS IT WILL GO A LONG WAY TOWARDS YOUR SUCCESS IN HS AND BEYOND. OUR YEAR ROUND OPPORTUNITIES PROVIDE THE OPPORTUNITY TO CONTINUE TO DEVELOP AND IMPROVE!
PLEASE REACH OUT AT ANYTIME WITH QUESTIONS ABOUT OUR PROGRAM AND HOW TO PLAY AT THE NEXT LEVEL BEYOND HS AND POSSIBLY BEYOND THAT.
REMEMBER OUR HASHTAG #BALLSOUT,  IT'S A MINDSET,  TO  PLAY HARD, PLAY WITH ENERGY AND PLAY THE RIGHT WAY!
SINCERELY.
JOE LEFEBRE
DIRECTOR: ROCKY MOUNTAIN OYSTERS BASEBALL
ARIZONA TOTAL BASEBALL 
GRAND JUNCTION COLORADO / PHOENIX ARIZONA
602-332-7156
COACHJPL@ICLOUD.COM