COLLEGE BASEBALL RECRUITING
REGARDLESS OF WHICH CLUB OR HIGH SCHOOL PROGRAM YOU PLAY FOR AND IF YOU ARE A HIGH SCHOOL BASEBALL PLAYER WHO HAS THE GOAL OF PLAYING COLLEGE BASEBALL THE RECRUITING PROCESS BEGINS NOW!!
TAKE OWNWERSHIP OF YOUR RECRUITING PROCESS, HAVE FUN WITH IT, BE REALISTIC ABOUT PROGRAMS YOU CAN PLAY FOR AND BECOME A GREAT PLAYER AND STUDENT THAT PROGRAMS WANT, SO SUCCESS COMES TO YOU AND THEM!
COLLEGE RECRUITING PROCESS TIPS:
1. BECOME A STRONG PLAYER IN ALL FACETS OF THE GAME THAT COLLEGE PROGRAMS WANT TO RECRUIT.

2. IF YOU ARE A HIGH SCHOOL AGED PLAYER IT'S NEVER TOO EARLY TO BEGIN THE RECRUITING PROCESS AND TO BEGIN TO MARKET AND PROMOTE YOURSELF.
3. TAKE YOUR ACADEMICS SERIOUSLY, BETTER GRADES AND TEST SCORES MAY MEAN MORE SCHOLARSHIP DOLLARS, YOUR GPA IS VERY IMPORTANT.
4. HAVE QUALITY GAME AND SKILLS VIDEO AND ALWAYS UPDATE. 
5. HAVE A STRONG WORK ETHIC AND HAVE A "GAMEPLAN".
6. HAVE A SOCIAL MEDIA PRESENCE ESPECIALLY TWITTER, THAT EVERY COLLEGE COACH IS ON, FOLLOWED BY INSTAGRAM. ALWAYS BE CONSCIOUS OF WHAT YOU POST!
7. KNOW HOW TO GET YOURSELF IN FRONT OF DECISION MAKERS, IF YOU WILL BE PLAYING IN EVENTS WITH A LARGE NUMBER OF TEAMS KNOW HOW TO PROMOTE YOURSELF BEFOREHAND.
8. TAKE OWNERSHIP OF YOUR PROCESS AND BE PERSISTENT AND REALISTIC, YOU DON'T NEED A HIGH PRICED RECRUITING SERVICE . PLATFORM ( NCSA, BERECRUITED, FIELD LEVEL ETC.)
OR CONSULTANT. THESE PLATFORMS AND SERVICES CAN COST THOUSANDS OF DOLLARS.
9. TRY TO PLAY THE GAME AND GET GAME REPS AS MUCH AS YOU CAN AND TRY TO PLAY A HIGHER LEVEL OF BASEBALL AS OFTEN AS POSSIBLE. REMEMBER IN MLB PLAYERS PLAY NEARLY 200 GAMES A YEAR INCLUDING SPRING TRAINING AND AT THE COLLEGE LEVEL UPWARDS OF OF 125-150 GAMES YEAR ROUND SO YOU HAVE TO BE STRONG AND DURABLE.
10. BE DEDICATED TO GETTING STRONGER, GET IN THE WEIGHTROOM AND TAKE CARE OF YOU ARM AND BUILD ARM STRENGTH, EVERY BASEBALL PLAYER MUST BE ABLE TO THROW AND ARM STRENGTH AND VELOCITY IS A SEPARATOR.
11. BUILD YOUR ATHLETE RESUME AND EMAIL/SHARE TO COLLEGE COACHES THROUGH THE PLATFORM DATABASE.
REACH OUT TO ME ANYTIME FOR GUIDANCE, 30+YEARS OF EXPERIENCE, COACHING, SCOUTING AND GUIDING BASEBALL PLAYERS AND  FAMILIES THROUGH THE RECRUITING PROCESS AND A TRACK RECORD OF 300+ PLAYERS TO THE NEXT LEVEL. WE HAVE  RELATIONSHIPS WITH COLLEGE COACHES AT ALL LEVELS,  MANY DIVISION 1 PROGRAMS AND TO THE TOP JUNIOR COLLEGE PROGRAMS IN THE COUNTRY THAT I COMMUNICATE WITH FREQUENTLY. IT'S VERY COMPETITIVE OUT THERE SO BE PREPARED! IF YOU ARE A HIGH SCHOOL PLAYER START THE PROCESS NOW!
JOE LEFEBRE 602-332-7156 COACHJPL@ICLOUD.COM
THE GOAL FOR ALL PLAYERS IN OUR PROGRAM IS TO EVENTUALLY PLAY BEYOND HIGH SCHOOL AT THE COLLEGE LEVEL AND FOR SOME POSSIBLY BEYOND THAT PROFESSIONALLY. THE ATHLETE RESUME IS A RECRUITING PLATFORM WE FULLY ENDORSE IN WHICH ALL HIGH SCHOOL PLAYERS CAN FULLY TAKE OWNERSHIP OF THEIR COLLEGE BASEBALL RECRUITING PROCESS WITH A PLATFORM THAT ALLOWS EVERY PLAYER TO BUILD A RECRUITING RESUME/ PROFILE THAT HAS ALL THE VITAL INFORMATION COLLEGE COACHES WANT TO SEE INCLUDING CONTACT INFORMATION, ACADEMICS AND THE ABILITY TO UPLOAD CURRENT VIDEO CONTENT WHICH CAN CONTINUALLY BE UPDATED AND EDITED. THE ATHLETE RESUME IS A CUSTOMIZABLE WEB PAGE THAT HELPS ATHLETES MARKET THEMSELVES TO COLLEGE COACHES AND PROGRAMS AND THAT ALLOWS HIGH SCHOOL PLAYERS SHOWCASE THEIR ATHLETIC, ACADEMIC AND PERSONAL INFORMATION TO COLLEGE BASEBALL RECRUITERS INCLUDING:                                                                               
PLAYER BIO INFORMATION
ACADEMICS
HIGHLIGHT VIDEOS AND CONTENT
SOCIAL MEDIA LINKS
ANALYTICS AND STATS
TESTIMONIALS AND REFERENCES
THIS PLATFORM INCLUDES THE COLLEGE INTEREST BOARD THAT ALLOWS HIGH SCHOOL BASEBALL PLAYERS TO SELECT INTERESTED SCHOOLS, SELECT AND TRACK THOSE PROGRAMS AND ALLOWS COLLEGE PROGRAMS TO INSTANTLY SEE YOUR ATHLETE RESUME.
ALSO INCLUDED IN YOUR BUNDLE IS THE COLLEGE COACH FINDER PORTAL THAT ALSO ALLOWS THE HIGH SCHOOL BASEBALL PLAYER TO INSTANTLY MESSAGE OR EMAIL THE SPECIFIC PROGRAMS THEY HAVE INTEREST IN WITHOUT SPENDING LOTS OF TIME RESEARCHING THOSE SPECIFIC PROGRAMS AND THEIR CONTACT INFORMATION.
THERE ARE NUMEROUS RECRUITING PLATFORMS, SERVICES AND CONSULTANTS MANY THAT COST THOUSANDS OF DOLLARS THAT CAN'T MATCH THE ATHLETE RESUME BUNDLE THAT HAS ALL THE MOST UP TO DATE TECHNOLOGY IN A USER FRIENDLY PLATFORM THAT ALL HIGH SCHOOL BASEBALL PLAYERS CAN UTILIZE TO PROMOTE AND MARKET THEMSELVES TO THE COLLEGE COACHES AND PROGRAMS OF THEIR CHOOSING.
THE COST OF THE BUNDLE $99 PER YEAR
THIS PLATFORM AND BUNDLE CREATED AND MANAGED BY TODD BLYLEVEN SON OF FORMER MAJOR LEAGUE PITCHER AND HALL OF FAMER BERT BLYLEVEN WHICH GIVES ALL HIGH SCHOOL BASEBALL PLAYERS A VERY AFFORDABLE STATE OF THE ART PLATFORM TO HELP YOU PROMOTE AND MARKET YOUSELF.
RECRUITING/ ATHLETE RESUME TO DO LIST:
1. CLICK LICK AND REGISTER
2. IN DROP DOWN BOX SELECT ME JOE LEFEBRE AS YOUR RECRUITING ADVISOR
3. BUILD AND COMPLETE YOUR ATHLETE RESUME/BIO
4. SHARE WITH ME WHEN COMPLETED BEFORE YOU EMAIL COLLEGE COACHES
5. CONTINUALLY ADD, EDIT AND HAVE THE MOST RECENT GAME OR WORKOUT SKILL VIDEO
6. BE PROACTIVE IN MARKETING YOURSELF, EMAIL TO COLLEGE PROGRAMS YOU ARE INTERESTED IN AND BE PERSISTENT, YOU MAY NOT HEAR FROM A COLLEGE COACH IMMEDIATELY, RESEND EMAILS AND FOLLOW UP EMAILS. 
TO REGISTER AND BEGIN BUILDING YOUR ATHLETE RESUME PLEASE OPEN THE FOLLOWING LINK TO START THE PROCESS AND IF YOU HAVE ANY QUESTIONS PLEASE EMAIL COACHJPL@ICLOUD.COM OR CALL 602-332-7156. WE ALONG WITH THE ATHLETE RESUME BUNDLE WILL HELP YOU REACH YOUR BASEBALL GOALS. IF YOU'RE IN HIGH SCHOOL THE TIME TO START THIS PROCESS IS NOW!
https://www.thescouthub.com/the-athlete-resume?ref=7zUNALPw 
CLICK ON SUBSCRIBE UNTIL YOU SEE THE $99 RESUME BUNDLE PROGRAM AND LETS BEGIN TO WORK TOGETHER TO REACH YOUR BASEBALL GOALS!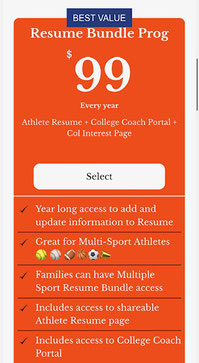 CLICK ON THE LINK BELOW THE PICTURE OF HUNTER "SCUBA" SMOLINSKI TO SEE A GREAT EXAMPLE OF AN ATHLETE RESUME FROM THE SCOUT HUB TO PROMOTE AND MARKET YOURSELF TO COLLEGE COACHES